2021 is nearing the end. Was there anything that left a deep impression on you during this summer? Was there a place that keeps you reluctant to leave? Have you ever created a memory on the beach wearing your favorite rash guard? It doesn't matter if you don't remember! 2022 is coming, so you can get ready for a new year full of hope.
Come and check the women rash guard trendspotting in 2022.You can snap up today to get ahead of the curve!
Modest-Style
You must not have tried the Modest-style of the rash guard as compared to the traditional one. As we all know, Modest fashion refers to cover-ups that feature light colors. It consists of a long gown, a smock, a jumpsuit, or a half-skirt. 
The modest-style rash guard is just that. It is extremely wrapping and can provide protection to the skin in all directions. This type of rash guard would be more suitable for the apple-shaped body. The length of the top can cover the upper part of the body and shows the figure's advantages.
If you want the latest trends and like solid colors, you'll choose the
Modest Split Rash Guard.
This rash guard is highly wrappable and brings out the Modest-style perfectly. You can also go without a sun shirt in this rash guard set.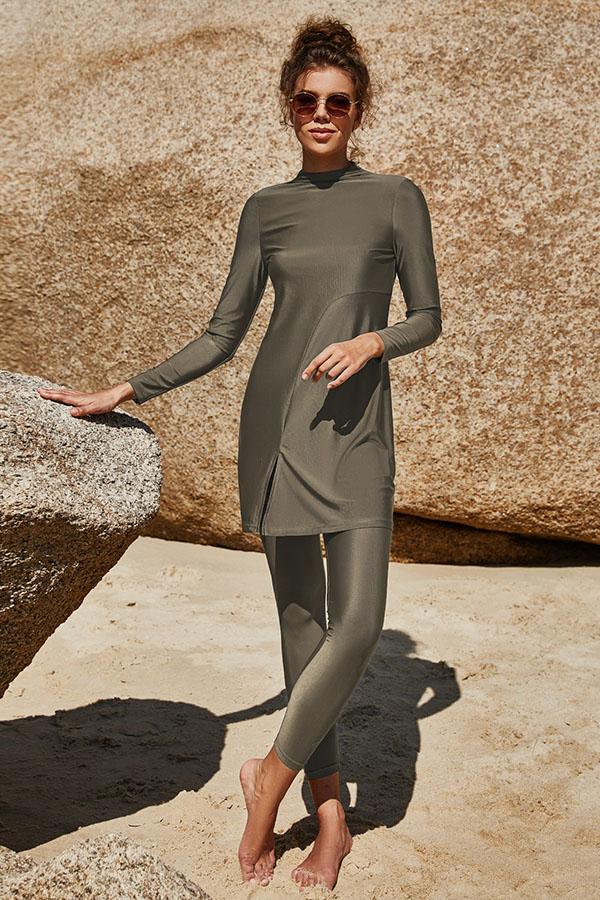 If you like the rash guard with character, choose the Wrap Cross Modest Rash Guard. The highlight of this suit is the crossover straps on the front chest, making it less boring. It also features a color clash design, with a beige top paired with an army green bottom, which is very harmonious in tone.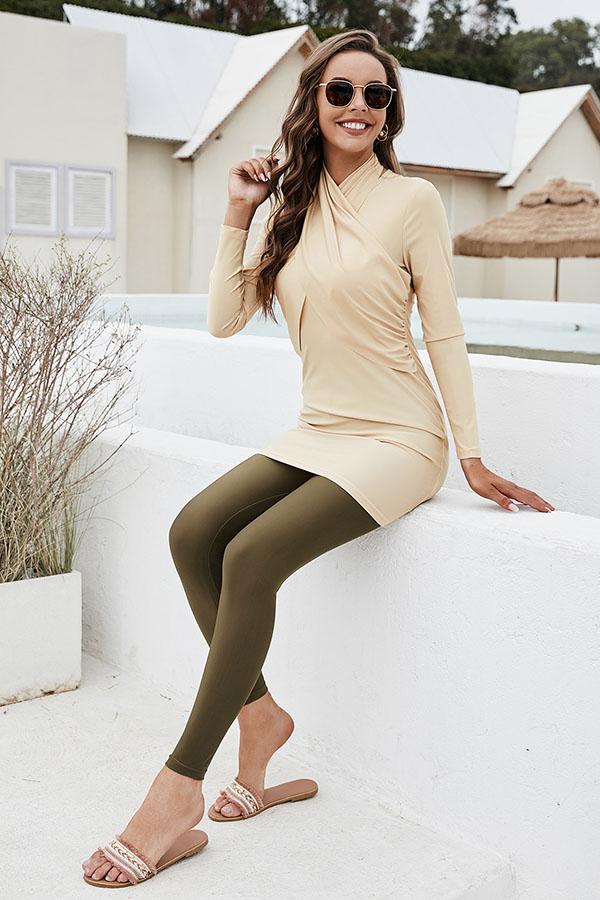 Tank Top
In 2022, the tank top will lead to a new trend. Compared with a traditional rash guard, this type of rash guard will be more fashionable. With abstract prints or boho style prints, it can attract the eyes of the youth more. The tank top will be more suitable for a pear-shaped body.
If you want a unique style, Abstract Print Split Rash Guard will be a good choice. Our rash guard comes in bright shades with abstract prints. You can freely combine the underwear in your closet to create a unique look.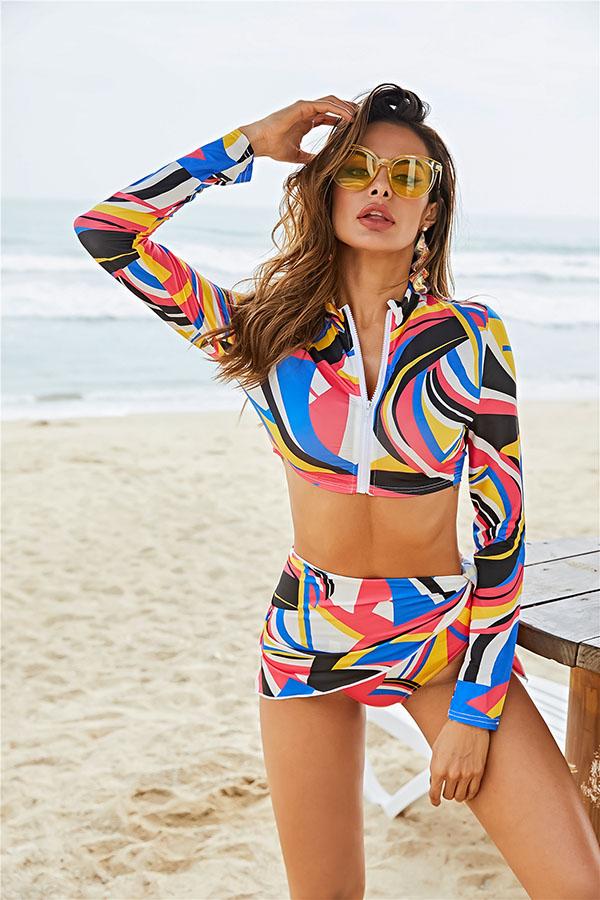 Dress
The rash guard dress offers a new direction for 2022. Previously, rash guards were designed as tops and one-piece styles.
Our rash guard dress opens up a new landscape of rash guard. You can wear this type of swimsuit when you travel, vacation, or walk on the beach to show your feminine side.
You can try the
Butterfly Print Drawstring Rash Guard
. Color black and white will never go out of style. This rash guard has drawstrings on both sides, so you can adjust the length of the dress at your discretion. Rash guard dress can also be paired with other bottoms, such as jeans, to create your style.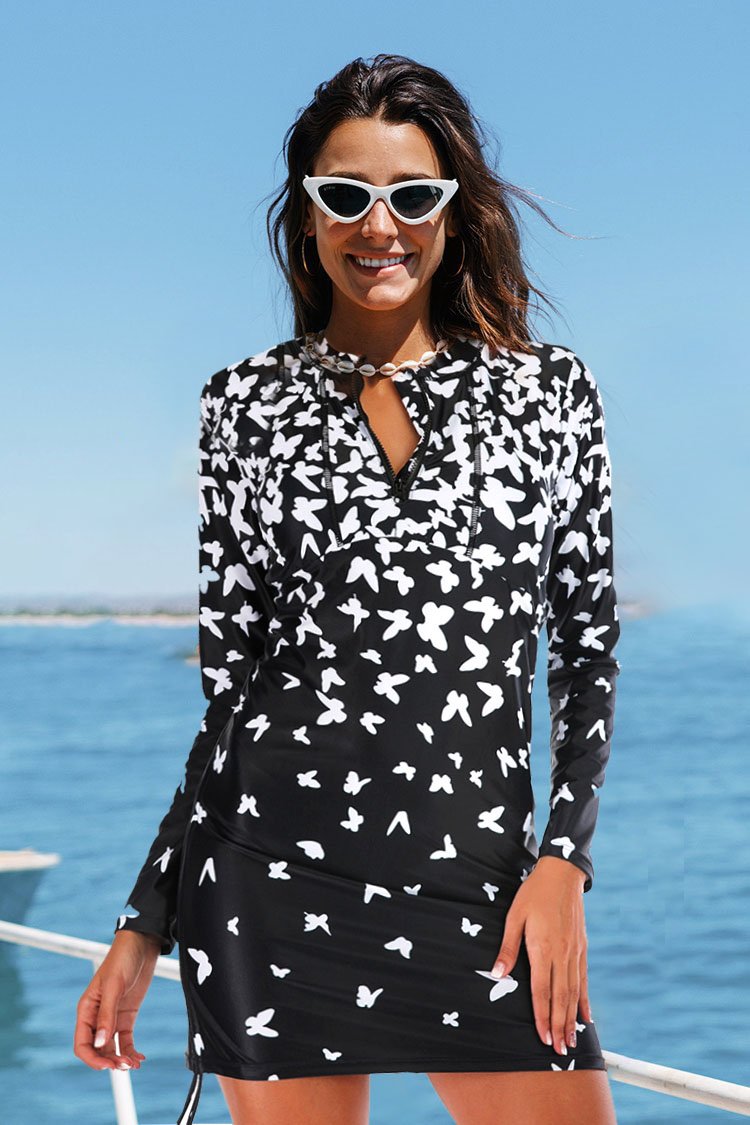 Boyleg
Boyleg will also be one of the rash guard latest trends in 2022. Many people will not be satisfy with the surf suit that has bikini bottom. Then the boyleg style is the best choice for them.  It will be more wrapping around the hips, so it will be more suitable for pear-shaped body.
The
Floral Colorblock Boyleg Rash Guard
is a classic example of the boyleg surf suit. Blue is the main color of this rash guard. The tropical print on the sides of the sleeves is a perfect match for summer. The flat bottom wraps around the entire ship, so you won't be uncomfortable when you're moving more.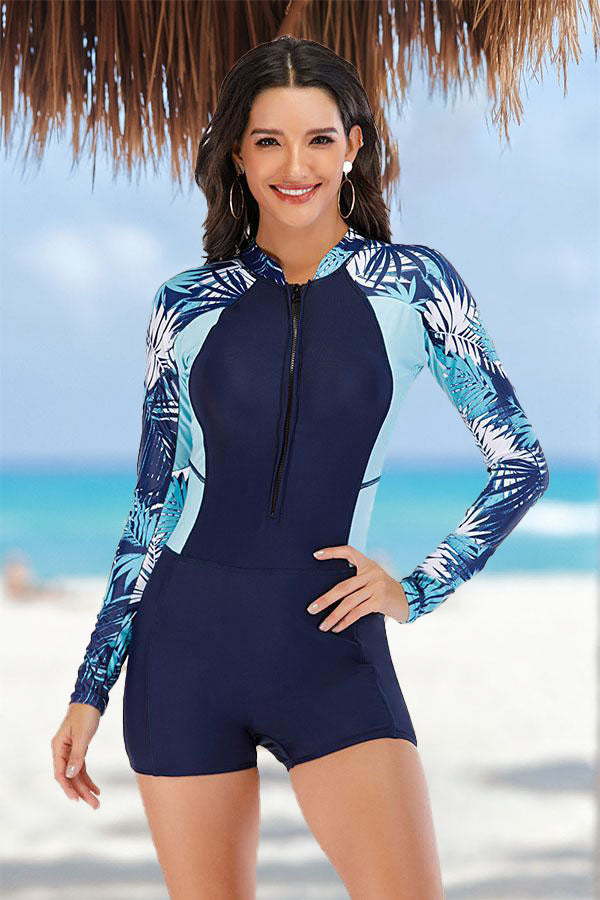 If you prefer a split surf suit, you can't go wrong with the Black Zip Boyleg Rash Guard. Boyleg bottom makes this rash guard more sporty and suitable for surfing, paddling, and other water sports.