If you plan to spend a lot of time in the sun during this beach vacation, rash guards for women will be your first line of defence against harmful ultraviolet rays. Sunburn increases the risk of skin cancer, so if you want to return to the hotel in a happy mood, rather than the pain after sunburn, you need reliable sun protection measures. In addition to applying sunscreen, wearing sunscreen clothing is a more friendly way to the ocean.
This article will tell you all about rash guard swimsuits and the importance of adding them to the swimsuit wardrobe.
What Is A Rash Guard?
What Is The Function Of Rash Guard?
What Style Of Rash Guard Is Available?
How Tight Should A Rash Guard Be?
Can Rash Guard Keep You Warm?
Can I Wear Rash Guard When Cycling Or Hiking?
How To Clean Rash Guard?
How To Shop For Rash Guard?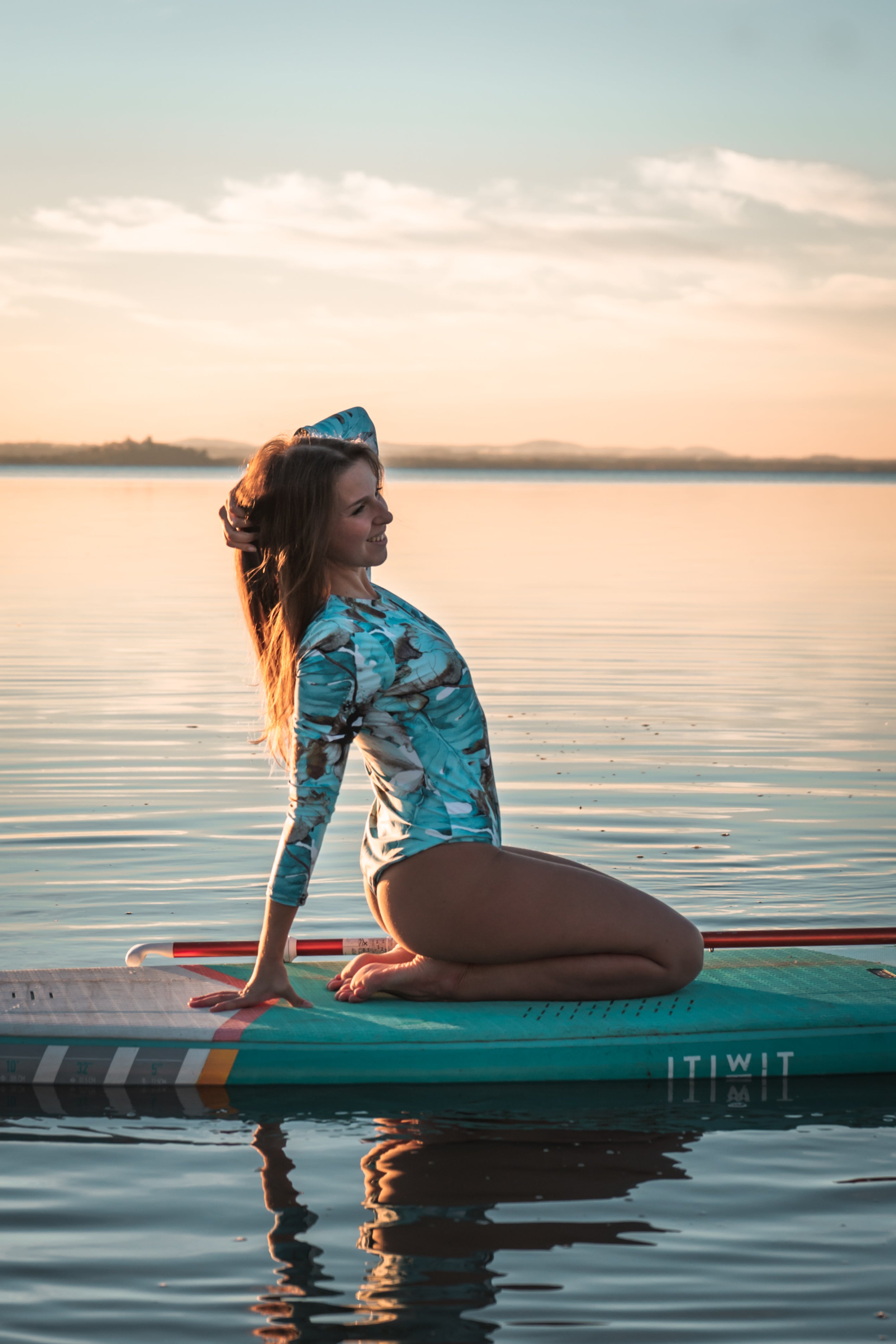 What Is A Rash Guard?
Mainly to provide you with warmth, sun protection and rash protection. They're usually made from materials such as spandex, nylon, polyester or neoprene and are designed to insulate and breathe simultaneously.
So what is UPF50+ rash guard?
UPF indicates how much UV radiation (both UVB and UVA) a fabric allows to reach your skin. UPF50 means that the clothing material will pass through about one-fifth of the ultraviolet rays, which means that the clothing material can block about 98% of the ultraviolet rays. So UPF50+ rash guard has a perfect sun protection effect.
What Is The Function Of Rash Guard?
1.360° physical sun protection. Sun protection is the primary function of a rash guard, which also protects your skin from the damaging effects of the sun.
2.Protects your skin.It also protects your skin from friction and jellyfish. In particular, it prevents scratches from sand and rubbing your legs while sitting on your board, and it prevents slipping on the waxed surface of your surfboard.
What Style Of Rash Guard Is Available?
Rash guards come in various styles for various uses. Some are made primarily for rash protection and are designed to protect your more sensitive areas such as armpits, nipples, and necks. Others are made more with insulation and sun protection in mind.
Short Sleeve rash guards are simple, fitted shirts that cover your shoulders. They're great for extra insulation under a wetsuit or ideal to wear alone in warmer climates.
Long Sleeve rash guards have fitted shirts that cover you up to your wrists. They cover more of your body, provide more insulation, and are great for calmer waters. At the same time give you more coverage and improve sun protection.
One-piece rash guards usually have a better fit. Sports that often use full-body protective clothing include canoeing, kayaking, kite surfing, surfing, etc.
Swim Shirt is usually more casual and can replace tankini. It is a seaside item that brings more coverage while keeping you elegant. And some swim shirts have an exposed full zipper for easy on-and-off. Walking along the boardwalk will be more comfortable wearing it than surfing. Although it mainly depends on personal preference, you can also wear it for cycling or running.
In addition, different prints and colors will personalize your rash guard, from tropical flowers to personalized geometric patterns, making you look great. So not only will you be protected, but you will also have an appearance that complements the beach.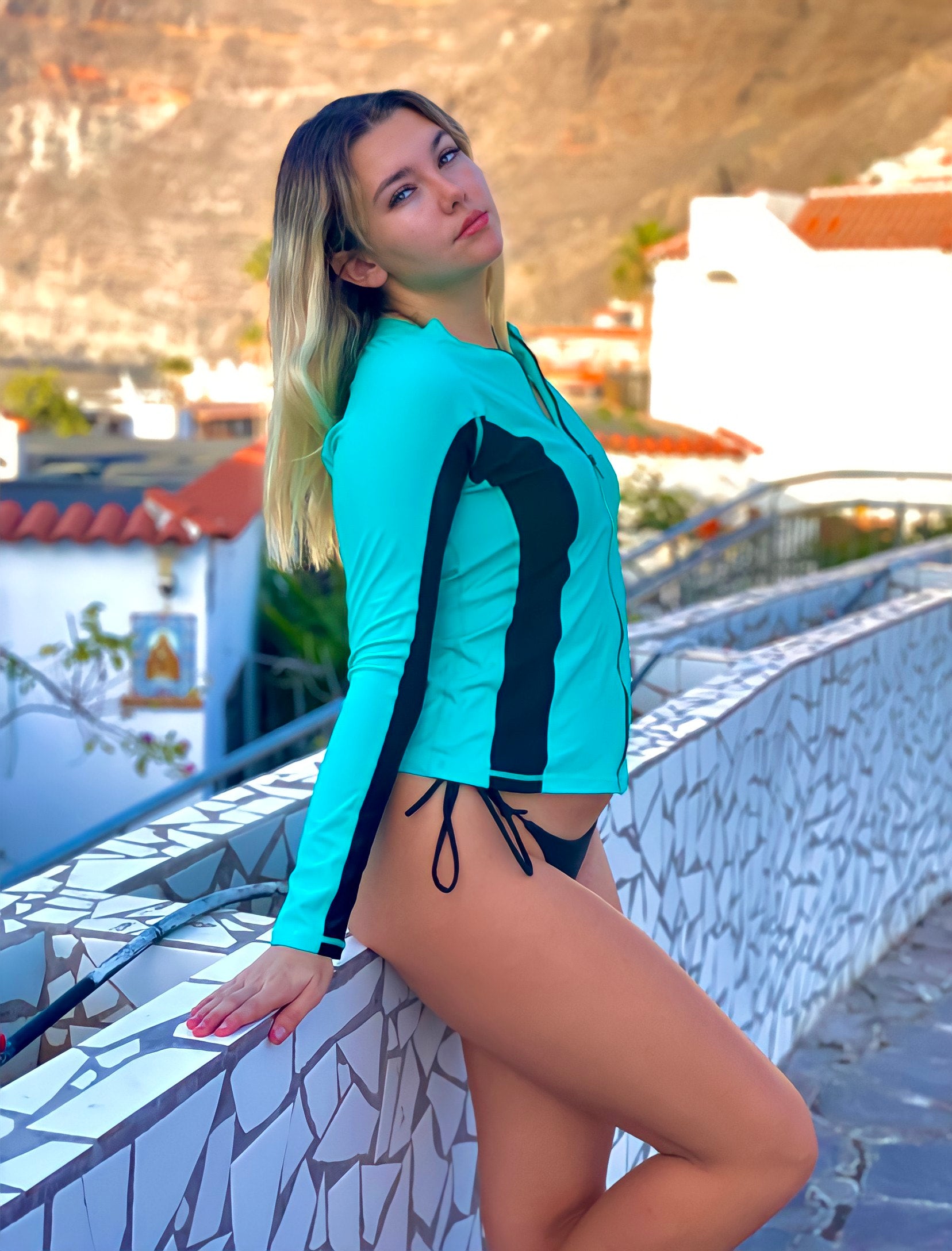 How Tight Should A Rash Guard Be?
As a novice, that is definitely when you want to figure out a question before you go out on the water -"Are rash guards supposed to be tight?" or "How tight should my rash guard be?" Generally speaking, a rash guard should be worn relatively tight and close to the skin to help reduce drag and protect the skin, but how tight should a rash guard now depend on the wearer's body type and comfort level. The rash guard usually has two fits that you can choose, loose-fitting and tight/clingy fitting, both of them have their advantages and suit your different needs.
Tight/Clingy Fitting
The rash guard is designed to be skin tight so that it doesn't float up and can stretch well against your body without hindering surfing activities, allowing you to swim freely in the water like a fish. But too tight, also will limit your sports.
Loose-fitting
The loose fit is more comfortable, and wear like T-shirts, for frolicking on the beach, but not for high-intensity water sports like surfing.
Can Rash Guard Keep You Warm?
The warmth of rash guard is occasion-specific. But this type of clothing that fits your body can help keep you warm by trapping your body heat inside and allowing it to collect.
The rash guard is a good choice when it's too hot to surf in a wetsuit. Its breathable fabric allows you to enjoy water sports at your own pace in the sun. Many water sports enthusiasts in warm water usually choose a rash guard over a wetsuit.
But in marine areas, most rash guards do not provide enough warmth. In this case, the rash guard can wear under your wetsuit to provide better warmth.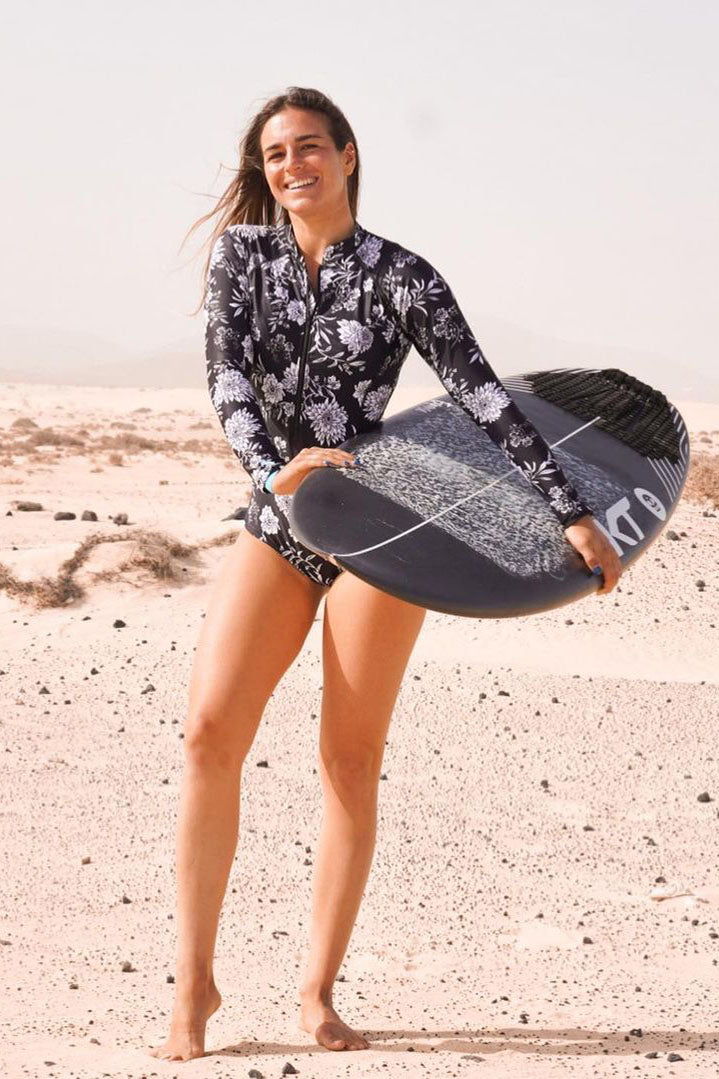 Can I Wear Rash Guard When Cycling Or Hiking?
Of course! Rash guard's quick-drying fabric, skin protection, and sun protection make it suitable for many types of sports, such as surfing, kite surfing, paddle surfing, swimming, diving, fishing, sailing, running, cycling and so on.
If you want to learn more about the necessary hiking equipment, please click here. 
How To Clean Rash Guard?
Because the raw materials of sunscreen clothing are slightly different from those of other clothes, if you want to extend the life of sunscreen clothing, you must take some special measures when washing it to prevent damage to the color and wind resistance of the dress.
Gently scrubbing and then drying naturally is the most suitable cleaning method. Pour the neutral detergent into clean water, soak the clothes for 20 minutes gently with your hands, and hang them in an excellent place to dry them immediately after washing. Here are more detailed notes. 
How To Shop For Rash Guard?
Picking the right rash guard for you requires the skill of choosing the correct item; please think in terms of coverage, color, fabric and more:
Coverage
The more skin the rash guard covers, the better the protection effect, so choose long-sleeved rash guards as much as possible.
Choose light and dark colors.
Bright or dark colors prevent them from reaching your skin by absorbing ultraviolet light. Therefore, the floral print rash guard provided by ATTRACO is both fashionable and practical.
Choose densely woven fabrics.
Check the sun protection performance of the clothes by putting the clothes under the light. If you cannot see the morning, it means that ultraviolet rays cannot easily pass through the clothes and reach your skin. At the same time, you can choose a tight-fitting rash guard during exercise, which helps maintain the body's best muscle temperature and reduces fatigue and promotes exercise endurance.