Whether you are hitting the road to travel on a beachy island or planning to head towards a tropical region, swimsuits and beachwear are the first things that come to your mind. It's time to enjoy your spring holidays by slipping into your breezy swimsuit for the beach, having a chilled drink, and enjoying worth-watching the sunset.
What's better than finding comfort in a tropical swimsuit with a unique, gorgeous print that makes you look sexy? Absolutely nothing! If you are struggling with what clothes to pack for your adventurous vacation, you are at the right place.
Here, you will see some of the well-designed and comfy swimsuits to wear on vacation. Have a look!
1.  California Sunshine——Orange Leaf Print Backless Rash Guard
Orange leaf print backless long sleeve UPF50+ Rash guard is one of the best basic swimwear pieces with some remarkable features making it perfect to wear on beaches or anywhere near water. It is beautifully designed with an open back supported by a back hook and removable soft cups to let you carry it your way.
The super-soft fabric made from UPF50 is also sun-protective and is very lightweight and quick-drying. It is considered best for beaches and pool parties as its backless look adds elegance to its chic design. The orange spring leaf print gives it a cool and breezy look, just perfect for enjoying your vacations in a great mood.
2.  Beach-lover's Dream——Tropical Impressions Rash Guard
Tropical long sleeve UPF50+ Rashguard is a women's one-piece swimsuit that gives a modish beachy look making you look prominent yet elegant. Its high-quality fabric is exceptionally soft; a single touch will make anyone buy it without thinking for a second. Moreover, the material of the fabric is made up of 82% polyester and 18% spandex providing it quick-drying and lightweight features.
The trendy one-piece rash guard provides sun protection from UV rays making your vacation memorable. The removable soft padded cups and back zip makes it more fit and stretchy. It also gives cheeky bum coverage that creates a stylish look so that you can enjoy it wherever you are. The customized wear is what makes it so unique. Lastly, the multicolor leaf print with long sleeves and high leg cut gives it a classy look without a doubt.
3.  Perfect For Minimalists——Colorblock Backless UPF50+ Rash Guard
Colorblock backless long sleeves UPF50+ rash guard is one of the best swimsuits meant for proper swimming, and it is undoubtedly the most incredible thing you can get if you love surfing. It has some extraordinary features like a built-in bra with a cheeky bum coverage, proving its romantic look to attract anyone.
Comfort is the best feature of this eye-catching color block surf suit with floral printed long sleeves and a high leg cut. The backless design and back tie can make anyone feel like a supermodel. Get your hands on the super-comfy swimsuit and enjoy it at any vacation, beach house, or private pool party.
4.  Vacation-ready Style——Floral Print Polka Dots Rash Guard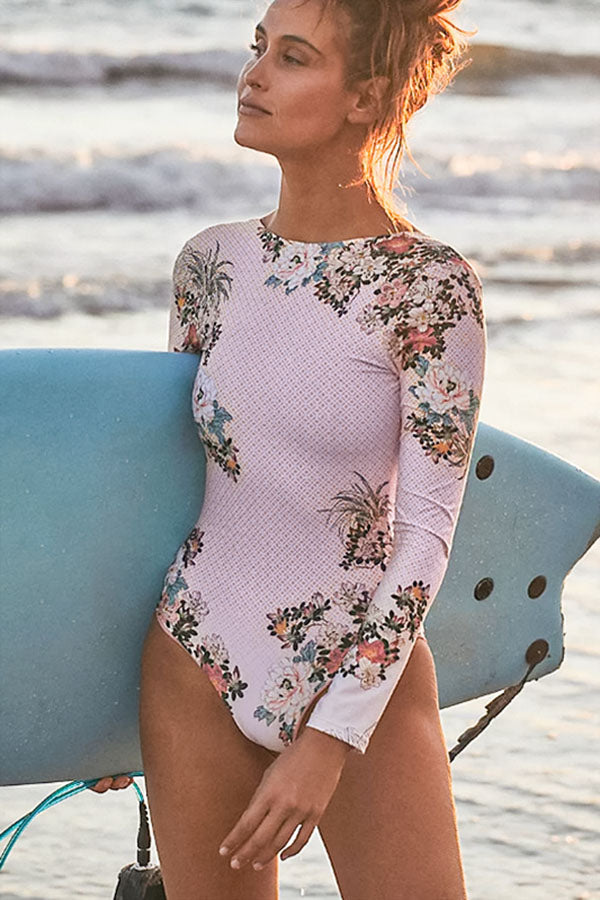 Exerting grace and classiness to your outfit, the pastel polka dot swimsuit with floral print can make your day special. Is surfing your thing? This fashion-forward piece is quite reliable and easy to wear.
With its built-in bra and back zip along with long sleeves and high legs, it is a perfect swimsuit to wear on your tropical vacations. You have the best motivation to hit the sand when this super-cool Floral print polka dots zip long sleeves UPF50+ swimsuit is with you. So don't wait! Get your floral print polka dots surf suit and make your vacations memorable.
5.  The Summer Staple——Green Palm Print UPF 50+ Rash Guard
Want to pair your swim outfit with the breathtaking sky or crystal water? The Green palm print UPF50+ rash guard is the ultimate one-piece rash guard swimsuit. The bright and cool swimsuit with green palm spring vibes includes a removable shelf bra, regular bum coverage, high leg, and full-lined details.
The fabric of this swimsuit makes it unique in any way with UV protection, thanks to the UPF50+ protection. Also, the most exciting part about this vibrant swimsuit is that it has chlorine resistance. Having top-class features like world-class quality and high durability, this one is the best according to beachy culture among all swimsuits with sleeves.
Final Thoughts:
Finding the perfect swimsuit to make your pool party, vacation, or beach trip never-forgetting is something daunting. But having a look at the swimsuits mentioned above will surely help you get the right one.
From long sleeves swimsuits to one-piece rush guards, you can buy the best one that puts you in ultimate comfort. Celebrate spring season, putting on the most trendy floral printed swimsuits.