The hot summer season has got us all. And when going out, which we all need to, a comfy and safe outfit is all we want. Whether you're going swimming, scuba diving, or surfing, a rash guard definitely offers more protection than a regular swimsuit.
If you wish to find the best rash guard for your needs, check out these best-selling and top-rated rash guards from one of the most popular brands of swim and dive clothing, i.e., Attraco. Also, Attraco has a fantastic summer sale going on, so this is your chance to get your dream rash guards at an Uber affordable price.
Now without wasting any time, let us introduce you to our top 5 picks for today.
Best Selling Two Piece Rash Guards
First of all, let's talk about two-piece rash guards that have gained fair popularity these days because they're more comfortable to carry than a single-piece rash guard. Here's our pick:
1. 
 Floral Print Split Pullover Long Sleeve UPF 50+ Rash Guard
The calm and summery tones of this split pullover rash guard are all you need to overcome summer heat and slay your look. The two-piece design provides more comfort and protection to your body parts. The long sleeves are perfect for those women who don't want their arms to get sunburned or tan.
You'll love the fitted look this outfit will give you, along with medium bum coverage. And oh, not to forget the intricate floral pattern, because which girl doesn't love flowers? Shop the product directly from the website here: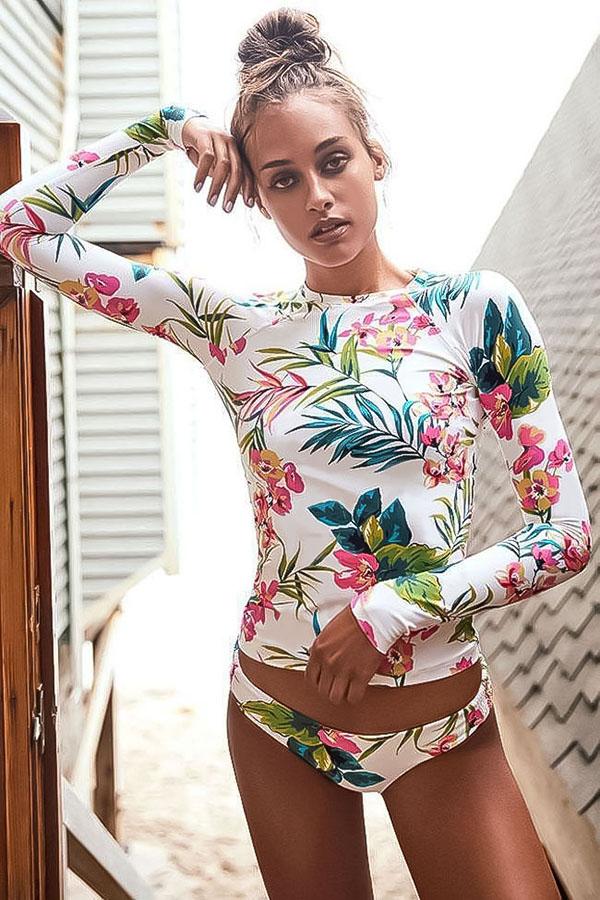 Best Selling One Piece Rash Guards
Now let's talk about one-piece rash guards because they're equally loved as two-piece ones. Here are our top picks for you:
1. Leaf Printed Long Sleeve Half Zip UPF 50+ Rash Guard
Another unique yet classy design! This leaf-printed long sleeve half zip rash guard has a tropical blue color with details like never seen before. It has a high leg cut that allows you to flaunt your sexy legs and gives you cheeky bum coverage, so you're all ready to rock and roll.
The bra cups are also removable, so you can adjust things according to your choice and turn on the heat! With so many chic features, this rash guard doesn't fail to provide you with the protection as promised with its UPF 50+ protective lining. Head over to the
website here
 to shop for this product.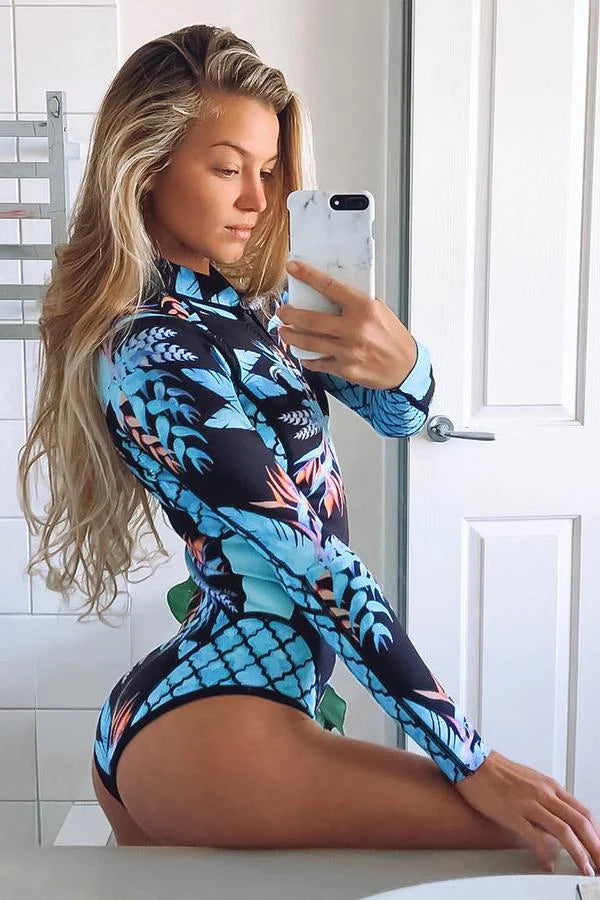 2. Modest Split Two Pieces Long Sleeve UPF 50+ Rash Guard
Don't like going overboard on beach days, or you're not comfortable with showing off your body? Even if you don't want your body parts to be visible, it's still your right to enjoy a fun day at the beach, and this modest split two-piece long-sleeve rash guard will help you to do so.The long sleeves and long trousers, plus no padding, allows you to achieve the modest look you're trying to achieve. It has a split hem and stretches fit, and the material is also very quick-drying, so it's a win-win!
Add it to your closet now.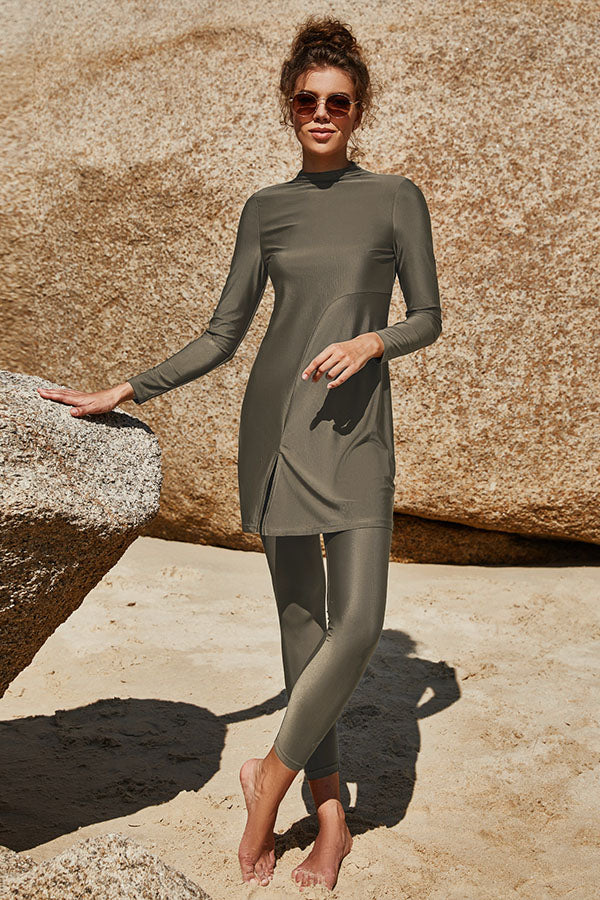 3. Color Block Short Sleeve Zip One Piece Sport Swimsuit
Do you like to keep it minimal yet chic? This color block one-piece sports swimsuit will be your best buddy then. It comes with a padded, molded bra and has a back zip so you can easily fit in.
And the design looks so cool and trendy! It has an elastic fit, so it's perfect for plus-size bodies and gives full bum coverage. Just perfect for all your outdoor activities!
Grab it on sale now!
Click here.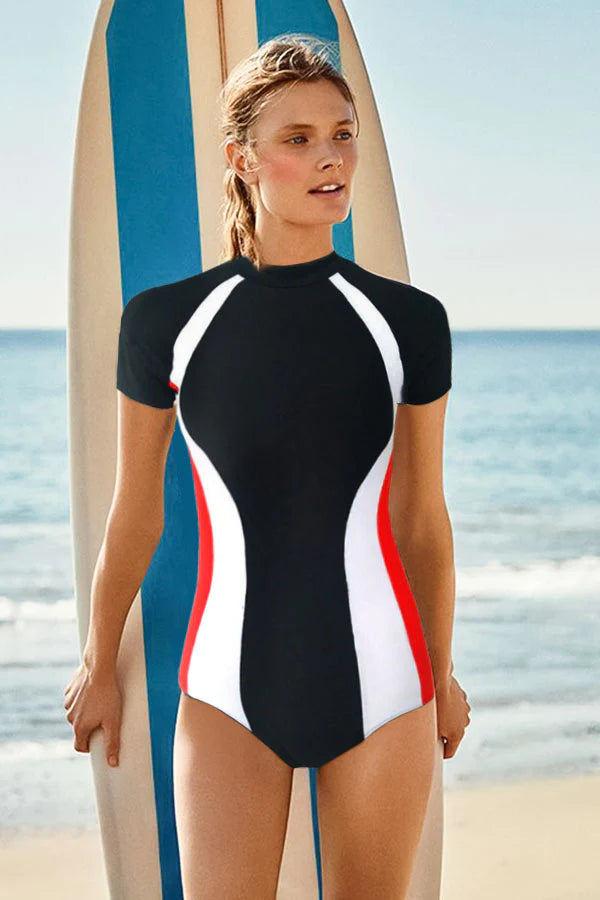 New Arrival Rash Guards
This one has been a big hit ever since it arrived. Let's talk about it in detail:
1. Floral Zip Front Long Sleeve UPF 50+ Rash Guard
A zipped front, long sleeves, front pockets, what else do girls need? This floral zip-front long-sleeve rash guard is our favorite yet and will be yours too once you get your hands on it.
The unique design is perfect for any body type and gives a stretch fit. And above all, it gives you UPF 50+ protection from sun rays, which is amazing! Isn't it? Hurry up and
get yours here
 before it runs out of stock.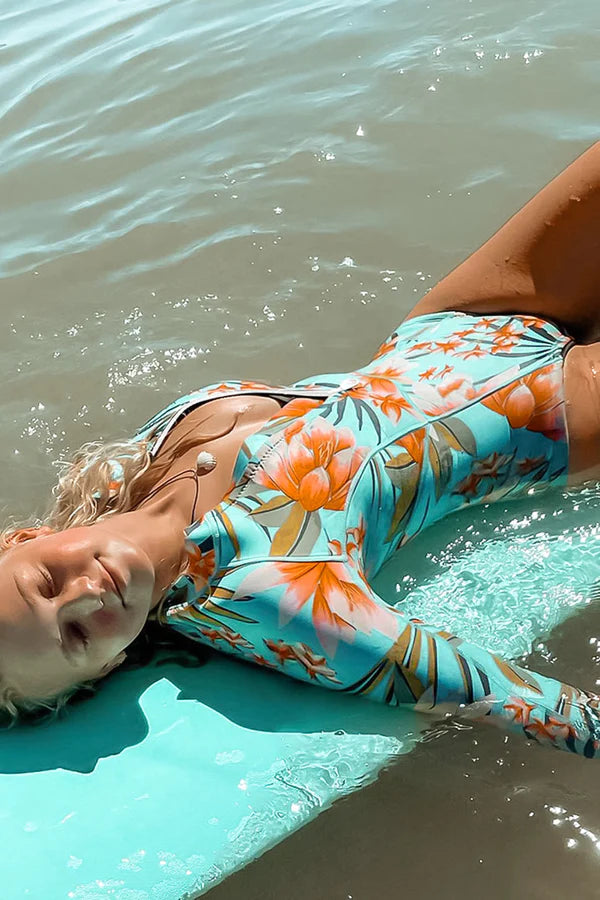 Final Verdict
That's all for today's blog post, folks. We expect you had fun reading it as much as we had while compiling this post. Summers are a fun season and bring many chances to hang out with friends outside the house. So while you enjoy summers to the fullest, don't forget to keep it a safe ride for your body, for which rash guards seem to be the best pick.