If you have ever been to a beach, you must have observed that some swimmers, boogie-boarders, or surfers wear shirts instead of swimsuits while diving into the waves. Well, those are actually rash guards. Do you want extra protection from the dazzling sun rays when you are at the beach? If yes, then the rash guard is your savior!
Now you must be wondering what a rash guard is? A rash guard is a fitted athletic shirt that shields the beach vacationers from the sun and many other factors. Usually, it is made up of polyester, nylon, and spandex, and people wear them while swimming or simply hanging out on the beach. This water wear protects you from several natural elements when you make contact with them. Seems a little odd? Let us tell you how; have a look!
There are several purposes to wearing a rash guard when you are anywhere near the sea. Here, we will mention the most common reasons to wear a rash guard.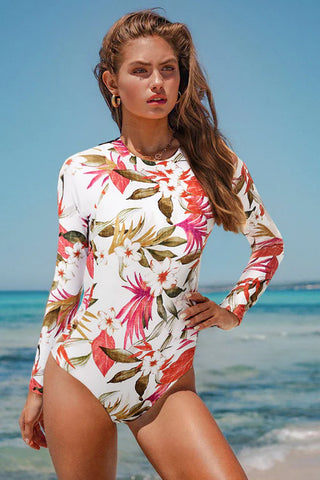 ·
Safety from Sun:
Are you waiting for the perfect waves to come so you can dive into the sea easily? Do your kids like to play with sand but do you want to protect them from the sun? Rash guards have got you covered! Now you don't have to expose your skin to sun rays for a long time as rash guards protect your body from them, thanks to its Ultra-violet protection factors. But don't forget to put on sunblock as the primary protection.  
·
Sea Armor:
Even if you visit a beach in the summer, the underwater temperature is always pretty cool. But a wet suit might feel a lot to wear in summer while diving in the sea. Hence, a rash guard is a good option here. Although rash guards do not keep your body warm, they can be an excellent alternative to a wet suit. Also, the rash guard can protect your body from irritating sea particles.
·
Prevents Rashes:
The most usual reason why people prefer wearing a rash guard rather than a swimsuit is to protect their skin from unwanted rashes. If you plan on surfing, there is a risk that you might get scratches due to friction, or the sticky residue on it can irritate your skin. So, it is always a safer option to wear a rash guard no matter if the surfing board is smooth or rough, especially for kids.  
Does A Rash Guard Keep You Warm?
The primary purpose of a rash guard is to prevent your body from rashes and exposure to the direct sun. Rash guards don't keep your body warm whether it is winter season or you are underwater. The reason is that the stuff of the rash guard is not thick enough to trap heat in it. But yes, it can help you to bear the shock of suddenly jumping into the cold water better than a swimsuit. However, prefer wearing a wetsuit if you want to keep your body a little warm.
Occasions To Wear Rash Guards:
Usually, people wear rash guards when they vacation on a beach or near the sea. Some people wear it to protect against skin burns, while others prefer wearing it while surfing or other exciting activities. Following are some hobbies that require wearing a rash guard for safety and hygiene purposes:
Swimming
Snorkeling
Bodyboarding
Kayaking
Windsurfing
Diving
What To Wear Under Rash Guard?
It is always recommended to wear a swimsuit top under the rash guard to prevent chafing as it does not cover your entire body thoroughly. If you are already wearing a tankini top or swim bra, you don't have to stuff your body with anything else. Usually, women prefer wearing a sports bra under a rash guard for additional support. Although they are fitted shirts, a great feature of rash guards is that they offer enough space for swimwear bottoms to cover the small areas of your body. Wear these things underneath to keep yourself a little warm, add extra safety, and take care of cleanliness and personal hygiene.
Is A Rash Guard Always Tight?
Rash guards are commonly form-fitted shirts that make you feel snug. They increase the blood flow of your body but as far as the movement is concerned, there is no difficulty faced. The reason behind the tight fit design is to prevent a rash guard from getting caught on something and reduces the drag. But a rash guard should not be that tight to make you feel suffocated or irritated.
Bottom Line:
Rash guards are not necessary, like wetsuits or scuba equipment, but they are the best choice if you want to dive in the sea without experiencing any itching. Many people consider it under a wetsuit because of its thin texture, but it can also be worn separately. If you are looking for some top-quality rash guards, visit our Attraco website to find the best one.