We all enjoy going to the beach on a sunny day, don't we? Yet, the sun can be a little annoying on beaches. To stay protected from the sun, you need a rash guard. Do you know what a rash guard is and how it can be essential for you? A rash guard can be a lifesaver on a hot sunny day. It is a fitted spandex top that helps your body stay protected against the sun and other materials.
If you are a beach person, you must've seen surfers wearing tight body-fitted rash guards while surfing on water waves. Yet, that doesn't mean that they are only meant for surfers; you can also use them to keep yourself protected if you are a beachgoer and a swimmer. Rash guards are essential clothing in swimwear.
What Is The Purpose Of Rash Guard?
Swimmers were the people who felt the need for a rash guard. They wanted something lightweight and ensured their protection against mother nature's elements, such as the sun. Saltwater can cause rashes and itching on your skin; rash guards were introduced to avoid that.
Lycra is a material that is used in the manufacture of rash guards. Lycra is a durable fiber, and approximately 6 ounces of lycra is used to complete one whole rash guard. You can get rash guards in different shapes and styles, from fully covered sleeves to sleeveless; it all depends on the personal choice of customers. Nowadays, kids' rash guards are also available in the market.
How To Wash A Rash Guard?
It is tough to maintain a rash guard and wear it for an extended period. You need to take care of your rash guard. Washing a rash guard is not like washing your regular clothes. Many people are not aware of how to wash their rash guard, and as a result, they end up destroying it in one wash. Here we have discussed a few things that you can follow to wash your rash guard correctly.
After swimming, it is recommended that you always rinse your rash guard immediately with water.
Never use hot water to wash your rash guard because hot water can shrink the lycra fabric used in the manufacture.
Seawater has salts in it, and on the other hand, the pool water has chlorine that can damage your rash guard
Use a block of biodegradable soap, mix it in cold water, and wash your rash guard.
Never use any bleach on a rash guard.
Always try to wash it by your hand and not in a machine
Please don't put a rash guard in a dryer or iron to dry out. It is recommended to let it directly dry in the sunlight.
What Are The Protocols Of Using A Rash Guard?
One of the common mistakes that people make while buying themselves a rash guard is that they end up buying a smaller size. Always try a rash guard before buying. The trial is that the fabric of a rash guard is rigid and fitted. If you buy a size that doesn't fit you properly, it can be an embarrassment in front of others, and you won't be able to breathe freely in the water.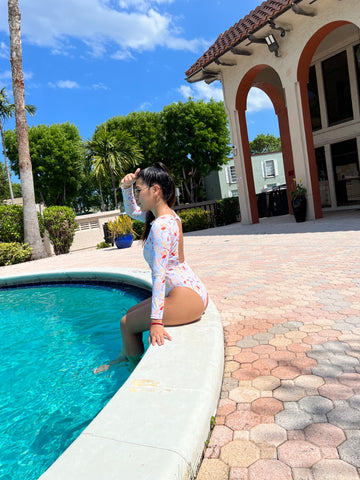 You'll be aware that chlorine is used in pool water to clean the water. You might not know that chlorine can damage your rash guard and let them lose their elasticity. That is why it is important to rinse it with clean cold water every time you go swimming using a good quality biodegradable soap or detergent.
How To Store A Rash Guard?
Here are a few steps that the manufacturer of the rash guard highly recommends to store a rash guard and keep it intact that you must follow.
Always use a heavily padded hanger to hang it
Don't use a standard wire hanger
Don't fold your rash guard. It is better to hang it in your closet, and folding can weaken the fabric of a rash guard.
Stains of oil, chemicals, aerosols, and gasoline are hard to remove from a rash guard so keep it away from them.
If a tear occurs, use a nylon thread to stitch the rash guard
Final Verdict
While buying a rash guard, always buy a rash guard that fits you snugly but make sure that it's not too tight on your body. If the rash guard is too tight, it can tear, and you'll lose your newly bought swimwear. Swimwear is expensive nowadays because the material used in making it is pricey. It is better to follow washing protocols, and your rash guard can last longer. So, why are you waiting? Get yourself a rash guard and enjoy beachy waves without the fear of the sun.